ARCHIVE OF other ACTIVITIES
Choice and Difference in Translation International Conference 2003
Επιλογές και Διαφορετικότητα στη Μετάφραση
The META-FRASEIS homepage was originally funded by the Choice and Difference in Translation International Conference, Faculty of English, University of Athens 2003. See the conference photo archive.
Cooperation with the GUNet was funded by the Special Account Research Fund of the University of Athens.
The Coordinator would also like to thank the technical personel of RCEL (Research Centre for English Language teaching, testing and assessment, Κέντρο Έρευνας για την Αγγλική Γλώσσα) for contributing valuable energy to the present homepage. Photos © Maria Sidiropoulou.
The Open academic Courses project_GUNet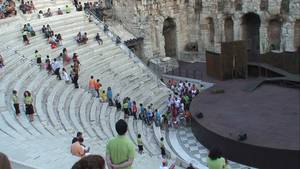 Translation and Spectacle open course (in Greek)
Maria Sidiropoulou - Undergraduate -  (A-) 
Faculty of English Language and Literature, National and Kapodistrian University of Athens
 The course examines treatment of phenomena involved in English-Greek meaning transfer with the contribution of spectacle on stage and screen (subtitling and dubbing).
The coordinator wishes to thank the GUNet_NKUA for the cooperation.